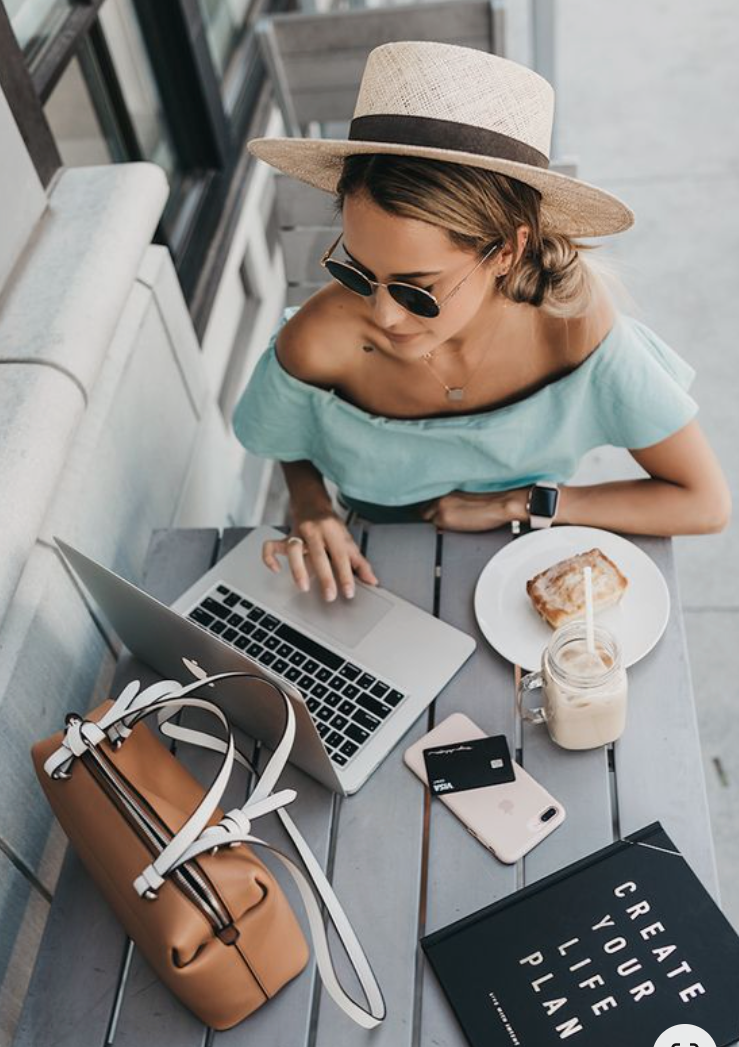 What you get
with the Time Saving Hustle™ Course:

√  the exact steps, with detailed recommendations, technology and tools, you need to build your online course business in up to four months  + its simplified one month version
√  12 Problem Solving Group Coaching Sessions with me - Diana Graepel - founder of the Time Saving Hustle & several other companies - to answer any questions you may have. (one/week). More about me, here.
√ Time Saving Business Fundamentals & Workbooks, based on my six figure business (> $900,000)
√ summary of online business trends & untold truths about the industry that cause so many people to waste time and money
√ Facebook private group - community & additional support


*a "passive income" business = work up to 10-15 hours maximum per week while earning a scalable, disproportionate, 6+ figure revenue.
According to studies, the average time to reach a passive income level for this type of online businesses is two to three years.

What you get- in details:
✅ Video 1 & Workbook 1- Time Freedom through your Online Business & Audience:
👉🏼  Highly effective, proven exercises – that can be done in as little as three days- to help you make sure you are launching a purpose driven business that you won't abandon and that you will feel excited to work on long term (Workbook 1 - "7 Day Challenge Find Your Best Online Business!")
👉🏼  A one-day evaluation, with pros and cons, of the major online business models that can help you reach 6+ figure revenues in less than 3-4 years and how they rank on six important criteria: Profitability, Scalability, Long-Term Potential, Implementation Speed, Technological Simplicity, Financial Accessibility – to help you think like a smart entrepreneur (Video 1)
 ✅ Video 2 & Workbook 2- Time Freedom through your Answer (Business Idea & Model) & Audience:
👉🏼 How to ensure that your business idea and model will lead to time freedom rather than burnout, as well as the simplest business framework for scaling your online business 
👉🏼 Why many businesses fail to build a strong foundation resulting in a complete loss of time and money on advertising.
👉🏼 Why I wouldn't sell via an Wordpress site or an online course marketplace like Udemy, Skillshare, etc or use a sales funnel app (at this initial stage)
👉🏼 The main profit killers to avoid (people pay for transformation not information)
👉🏼 The 3 step formula for building a powerful Sales Page (part of your Answer- online presence- as well as part of your Amplification)
👉🏼 The main strategies you must understand in order to correctly price your launch
👉🏼 How to avoid common online business traps that waste time when it comes to:
💎
CONTENT
- WHAT IS THE MINIMUM VIABLE CONTENT REQUIRED
💎
TECHNOLOGY
- TOO MUCH, UNNECESSARY TECHNOLOGY, OR THE OPPOSITE, TOO LITTLE OR NO TECHNOLOGY + WHAT IS THE MINIMUM THAT'S REQUIRED
💎
BRANDING
- THE MOST BASIC, SIMPLE STRUCTURE FOR CREATING A POWERFUL BRAND FOR YOUR BUSINESS, COMPLETE WITH A VISUAL SUMMARY 
✅ 6 Problem Solving Group Coaching Sessions with me - to answer any questions you may have (one/week for implementation of Workbooks 1 & 2).


 ✅ Video 3 & Workbooks 3 & 4 - "Time Freedom through Your Amplification- Marketing, Sales, Operations" :
👉🏼 How to strategically combine the Launch model with the Evergreen model to gradually build passive income and time freedom, including pros & cons for each model
👉🏼 All the main Marketing Channels and Platforms including statistics, trends, best tactics and pros & cons for each - in just one Infographic 
👉🏼 How to book qualified appointments organically while still saving time
👉🏼 My two formulas to write high converting posts & ads
👉🏼 Cost-effective paid advertising strategies ("3 ads strategy", the Self Liquidating Offer etc)
👉🏼 A simple, yet strong Sales Script
👉🏼 Why you should plan for up to 70-90% automation of your online business, using the right technology and SOPs (Standard Operating Procedures) from the start
👉🏼 the "One Month Launch" Step by Step Guide (Workbook #4)
✅ 6 Problem Solving Group Coaching Sessions with me - to answer any questions you may have (one/week for implementation of Workbook 4).


NEED TO KNOW MORE?
FAQs
1) Who I am

My name is Diana Graepel, I'm a 20+ year serial entrepreneur with businesses in several industries. More about me here.
I've spent the majority of my active life in the business world, and all of that experience and insight has led to this special training, designed specifically for people who want to build businesses around their lifestyles rather than growth ones.
It's a highly condensed, practical and guided training to help you gain key insights and solutions on what you should absolutely know and implement as an online business owner if you want to create time freedom through your business.
2) Who is this for?

It is addressed to those of you who want to launch their online course business as fast as possible while still benefitting from my problem solving mentorship and group accountability.
This course is my "middle" solution between my Coaching Course and Mini Course. It's basically me assisting you to implement the Mini Course Workbooks through the weekly group coaching sessions.
It's a scaled-down version of my TIME SAVING HUSTLE™ Coaching Course that still includes all the weekly Coaching Sessions.
Which means you have the option to get the Mini Course and implement it yourself or join this program if you think you will need help with the implementation and accountability part.


Let's talk about some of your questions & possible objections
🔴 "I'm afraid this is another one of these courses that will make no difference for me…"
This may only apply if you are already earning 5 figures per month from your online business while working less than 40 hours per week.
If you are not in this category, you will greatly benefit from this training, making it one of the best investments you can make for your online business.
And if you are just starting out or have less than 2 years business experience or launched your business already but haven't yet made enough money from it to quit your job, then this training will make a major difference for your business.
Furthermore, I have a track record of not allowing people to fall behind, so the group coaching sessions will keep you accountable and on schedule.
Which means the chances of this program failing to produce significant results in your business are extremely low. (assuming, of course, that you implement all the given instructions).
🔴 "I'm already overwhelmed with everything I need to learn; I don't need any additional information..."

While I understand the "overwhelm," this training is intended to provide a direct solution* to it… My entire business — Time Saving Hustle – is centered around saving people time.
Which means I did my best to condense 20+ years of knowledge, insight, and first-hand experience as a business owner into only 4 Workbooks of highly-valuable and tangible content in order to give you a massive advantage in your journey as a business owner.
This training is not about vague business strategies and models that can be found in a hundred different programs; rather, it is a culmination of my experience and search for the core principles and strategies that help entrepreneurs build their time freedom. What I'm bringing you are tried-and-true success principles that, when combined with implementation, simply won't let you fail.
After much investigation, I couldn't find a short, practical course that covered what I believe is vital to building a solid online business while also allowing for time freedom, so I created it myself.
*even abstained from making jokes to keep it brief!
😅 
🔴 "There are far too many competitors in the niche I'm interested in... who needs another?"

The idea that the market (regardless of niche) is saturated and there is no room for a new online entrant is simply false. (By the way, this belief is also part of a "scarcity" mindset that you should aim to change). There is a place online for everyone, especially as more and more people join.
In fact, studies show that the self-education industry is expected to double in just six years, from 2020 to 2026.
If you follow the given instructions and if you understand a few fundamental truths about online entrepreneurship (which I summarize in this program), you will dramatically increase your chances of having a profitable online business and thus achieving time freedom in a matter of years. And this, again, is an incredible opportunity that is unique to our times.